CBRN-Analysis is an advanced, off-the-shelf CBRN Defense Knowledge Management Software Application that provides Knowledge Management, Hazard Prediction, and Warning and Reporting (W&R) capability, supporting the planning and execution of operations.
Providing commanders with rapid and accurate knowledge to increase their CBRN situational awareness within an area where a risk of CBRN hazards may exist.

CBRN-Analysis effectively supports and enhances risk-management in all phases of an operation, through the planning and pre-deployment phase, in-theatre execution, and in the post-conflict or recovery phase. CBRN-Analysis complies with the latest NATO standards. These include the NATO publications of STANAG 2103 ATP-45(F)(2) and STANAG 2497 AEP-45(E)(1). CBRN-Analysis is the global market leader in the digital application of CBRN knowledge management software that meets the latest warning and reporting standards. The software also supports intelligence preparation of the operational environment (IPOE) which allows users to place known potential hazards within their operational areas, enabling critical infrastructure protection.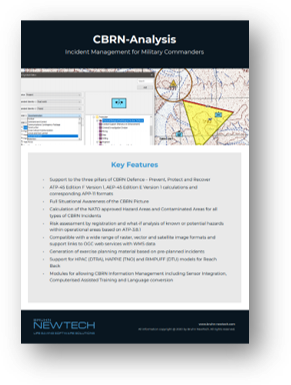 Key features in CBRN-Analysis
Support to the three pillars of CBRN Defence: Prevent, Protect & Recover
Calculation of the NATO approved Hazzard Areas and Contaminated Areas for all types of CBRN Incidents
"What-if" scenarios for pre-emptive planning
CBRN-Analysis provides the ability to set up defined 'risk objects' within the software. The 'risk object' can be a facility, a venue or location where there may be a risk of a CBRN release. All known data about a 'Risk Object' can be stored in CBRN-Analysis to create a knowledge base for planning and if required, reactions to a subsequent incident. The 'risk object' and any associated hazard area is shown on the map in CBRN-Analysis.
Built-In Briefing Generation
Briefing reports can be automatically generated to provide incident and risk object information for briefing commanders or other stakeholders. Information includes any hazards detected, map based predicted hazard areas and any checklists and procedures that apply.
CBRN-Analysis is designed to provide commanders with rapid and accurate information to help increase their situational awareness of the battlefield and enable informed decision making to save lives, protect assets, and maintain efficient operations.
CBRN-Analysis is continuously updated to comply with the latest editions of ATP-45 and AEP-45, currently ATP-45(F)(2) and AEP-45(E)(1). There is no additional costs or mid life upgrades required as the NATO standards evolve. Continued compliance is secured as part of the CBRN-Analysis subscription.
The software automatically calculates the predicted CBRN hazard area and can quickly display that information on a map to the operator. The same data is used to identify key interest areas and units that are at risk.
CBRN-Analysis complies with the latest NATO standards and an annual software release ensures compliance maintenance. The relevant standards include the NATO publications of STANAG 2103 ATP-45 and STANAG 2497 AEP-45. Maintenance of these standards in the software offers the customer the opportunity to maintain interoperability with NATO Commands and partner nations.
Compatible with a wide range of raster, vector and satellite image formats. Support links to OGC web services with WMS data
Warning & Reporting Modules
Modules and options to extend the functionality and utility of
the CBRN-Analysis and CBRNE-Frontline software
The CBRN-Analysis CAX (Computer Assisted Exercise) Player is an automated training module that can be used to maintain currency of trained operators in the operation of CBRN-Analysis, using Bruhn NewTech supplied pre-defined exercises.
All products are available in English as default but can be modified to another specific language. With the Local Language Support module, all products are provided in the local language selected by the customer.
The Publish CBRN COP (Common Operational Picture) module enables the operator to export hazard warning areas from CBRN-Analysis and CBRNE-Frontline to other Knowledge Management systems.
The NFFI/FFI (NATO Friendly Force Information) module enables automatic update of units in CBRN-Analysis and CBRNE-Frontline from the Battle Management, C2, C4 or other Mission Management systems.
A number of atmospheric dispersion models (e.g. Rimpuff) can be used with CBRN-Analysis and CBRNE-Frontline for more detailed hazard area predictions.
Geographic Information System
Supports links to Open Geospatial Consortium (OGC) web services with Web Map Service (WMS) data. WMS is a widely supported format for maps and GIS data, accessed via secure nets such as for NATO Core GIS or via the Internet and loaded into client-side GIS software e.g. CBRN-Analysis or CBRNE-Frontline.
---
Please use the contact formula below to get in touch and we hope to hear from you soon.
We are always available for a meeting where we can tell you more about the product and give you an insight into our solutions. Use the contact formula below to get in touch. We hope to hear from you.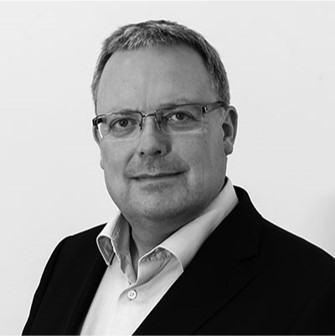 Erik Juel Ellinghaus
CEO, Bruhn NewTech