Key features in CBRNE-Frontline
Calculation of the NATO approved Hazard Areas for chemical and radiological Incidents.
Wide mapping compatibility
Compatible with a wide range of raster, vector, and satellite image formats.
Sensor integration to a wide range of CBRNE detectors and instruments by using the integrated SCIM® technology.
Full situational awareness
Full situational awareness of the CBRN Picture enables critical life-saving decisions to be made in time.
What-if objects for pre-emptive planning
CBRNE-Frontline provides the ability to set up defined 'risk objects' within the software. The 'risk object' can be a facility, a venue, or a location where there may be a risk of a CBRN release. All known data about a 'Risk Object' can be stored in CBRNE-Frontline to create a knowledge base for planners and first responders. The 'risk object' and any associated hazard area is shown on the map in CBRNE-Frontline.
Built-in briefing generation
Briefing reports can be automatically generated as documents to provide incident and risk object information for briefing commanders or other stakeholders. Information includes any hazards detected, map-based predicted hazard areas and any risk object checklists and procedures that apply.
Incident reporting & calculation of hazard areas
The system allows collection of sensor data and formatting of that data into standard CBRN messaging for hazard area calculation and further dissemination via most built-in communication applications. The software enables the capture of sensor data that can then be transmitted for further investigation. SCIM® is future-proofed as it allows any sensor or instrument to be replaced or added as technology advances.
CBRNE-Frontline is a CBRNE Incident and Knowledge Management application for use in a wide range of situations requiring accurate incident and hazard prediction information to be made available to initial responders as rapidly as possible.
CBRNE-Frontline is intuitive and easy to understand, removing some of the complexities associated with CBRNE hazard prediction and knowledge management. This ease of use makes it an ideal tool for non-CBRNE specialists.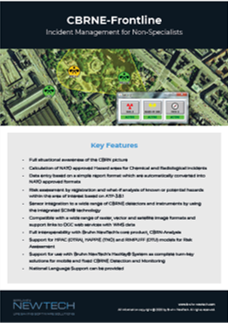 Modules to extend the functionality & utility of
CBRN-Analysis and CBRNE-Frontline
Supports Open Geospatial Consortium (OGC) web services with Web Map Service (WMS) data. WMS is a supported format for maps and Geographic Information System (GIS) data, accessed via secure nets like NATO Core GIS or via the web, loaded into client-side software e.g. CBRN-Analysis or CBRNE-Frontline.
All products are available in English as default but can be modified to another specified language. With the Local Language Support module, all products are provided in the local language selected by the customer.
The Publish CBRN COP (Common Operational Picture) module enables the operator to export hazard warning areas from CBRN-Analysis and CBRNE-Frontline to other Knowledge Management systems.
The CBRN-Analysis CAX (Computer Assisted Exercise) Player is an automated training module that can be used to maintain the currency of trained operators in the operation of CBRN-Analysis, using Bruhn NewTech supplied pre-defined exercises.
The NFFI/FFI (NATO Friendly Force Information) module enables automatic update of units in CBRN-Analysis and CBRNE-Frontline from the Battle Management, C2, C4 or other Mission Management systems.
A number of atmospheric dispersion models (e.g. Rimpuff) can be used with CBRN-Analysis and CBRNE-Frontline for more detailed hazard area predictions.
Let's have a talk
We're always happy and available to meet for a conversation about our many products. We'll do our best to give relevant and valuable insights on how our solutions might be able to help and support you in protecting and saving lives.